SCI Bell Family Blue Bag
In memory of Amy Bell
Humanitarian Services to people and communities worldwide is a major objective of the SCI Foundation. In 2015 the Bell family joined with the SCI Foundation in support of their Humanitarian Services program by making a major funding commitment to what is now known as the Bell Family Blue Bag – "Pay It Forward" initiative. It is the goal of this program to make a difference in the lives of those less fortunate throughout the world.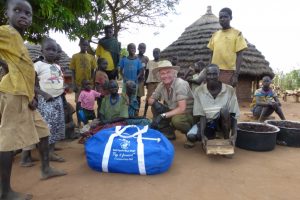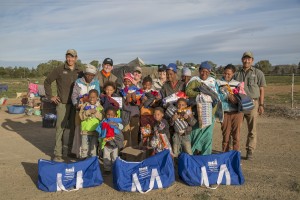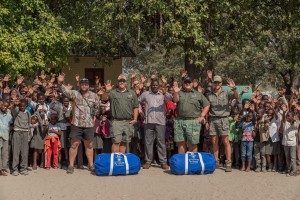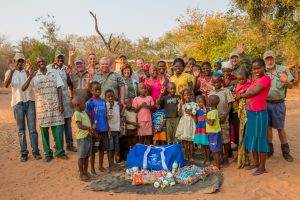 SCI Chapters, individual SCI members, church groups as well as groups of school children or scouts fill these Blue Bags with much needed school and medical supplies, clothes and food items as well as playground items for the children. The contents of these bags may include medical, educational, and other relief supplies, or clothing and toys.  SCI members, fellow hunters and their friends, who are traveling to the hunting and safari destinations of the world, will take these Blue Bags and distribute these much needed items to children and families all over the globe. These "humanitarians", with the support of their outfitters and friends, will deliver the contents of these bags directly to schools, clinics, churches, orphanages as well as to teachers, doctors, caregivers and mission workers to use in support of all those in need.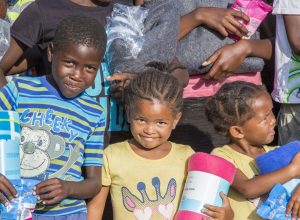 Through this program the Bells join with hunting families and their friends all over the world to promote a "Pay It Forward" spirit for the benefit of those less fortunate and to improve the quality of life worldwide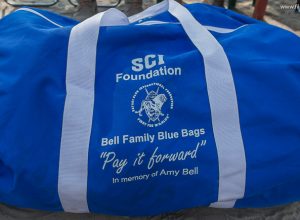 Are you going on a safari soon?
What can I put in a blue bag?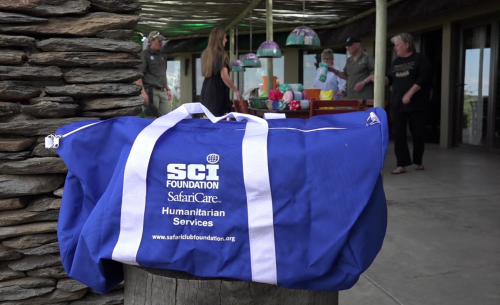 Food Supplies
Clothing and blankets
Medical Supplies
Educational material
Toys and sweets
Money
Dr. Peter Nalos, his wife Karen Nalos and daughter ON Opre "Pay It Forward" in a MIGHT WAY!!!!
During their recent trip to Ethiopia to open several new schools on behalf of #AfricanChildrensSchools, the Nalos Family shared several SCI Foundation Bell Family Blue Bags with the children of Ethiopia. These blue bags were filled with much needed supplies to help stock the schools. They also delivered food supplies, medical supplies and clothing items for the children of these local tribes. All this in addition to building these tribes and communities a new school.
African Children's Schools is a wonderful charitable organization that is building schools in several strategic locations in Africa. Amy Bell Charities is so very blessed to be partners with the Nalos Family and African Childrens Schools in several of those projects. Our deepest thanks and gratitude to the Nalos/Opre families for including the Blue Bag program in their amazing ministry to those less fortunate. They live "Pay It Forward" in every aspect of their lives. God bless you Peter Nalos, Karen Nalos, ON Opre, TA Opre and everyone associated with Africa Children's Schools. You are a shining example to us all.
Ellen Bell #amybellcharities #bluebagprogram Matthew C. Bell, Brian R Bell, Safari Club International Foundation ... See MoreSee Less
Comment on Facebook 118457468552487_687385504993011
I'm so very proud of all that y'all do!!
Great you are number one in africa to opening the schools spencialy for remot area. its wonderful i pleasured to for your work be strong i pray for you!!!
Excellent, Olivia! Proud of you!
This is such a wonderful blessing to so many. God bless you!
Our pleasure to partner with Ellen and Larry Bell and spread the love in Africa 💕
Two great organizations working together to help so many people in need and making our planet a better place for people and wildlife! Bravo
First grade can't wait to fill their blue bags with books for 3 Little Free Libraries we are sponsoring for Amy for Bynum School, Hillcrest School and Hope Hospice! We love you Ellen Bell and Larry J Bell! We love reading📚📚📚