NCHA: Amateur Rider of the Year
In addition to creating a new award for the NCHA Amateur Horse of the Year, the NCHA board of directors also established the NCHA Amateur Rider of the Year to be awarded annually during the NCHA Futurity in December. The first winner of this award was announced in December, 2015. Friends of Amy Bell who are members of the NCHA asked the NCHA board to consider naming this annual award in memory of Amy Bell. Amy started showing an American Quarter Horse in NCHA competitions and shows in 2001. She loved showing a cutting horse and was a regular competitor in NCHA events throughout the southwest. She showed her horses in the NCHA Futurity, NCHA Derby and the NCHA Super Stakes as well as numerous other NCHA aged events shows. Amy was in Tulsa, OK at the Breeders Invitational showing her home bred horse Dont Be Grabbin when she passed away.
During a board meeting in early 2015 the NCHA executive committee and board of directors approved a resolution naming the NCHA Amateur Rider of the Year award as the Amy Bell Memorial Amateur Rider of the Year. Amy loved her cutting horses, she loved her cutting horse friends and family, and she loved raising her cutting horses. The Bell family is honored that the NCHA would see fit to honor Amy in this special way. The Bell family has joined with numerous friends of Amy to provide a perpetual funding for this award which includes a specially designed Gist Buckle to recognize each year's winner.
2020 Winner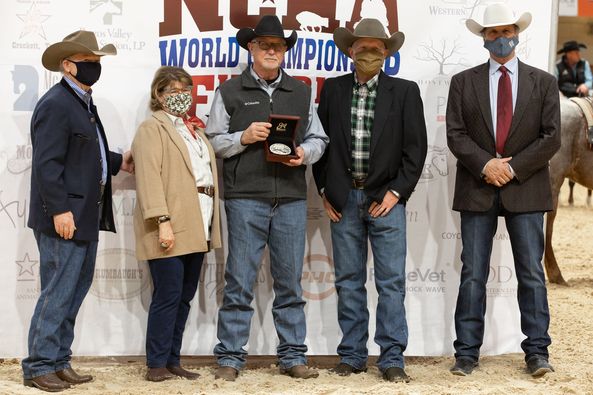 Winners
Makayla Cowan
Ardmore, OK
James Vangilder
Weatherford, TX
Langston Pattillo
St. Elmo, IL
Miller Wade Smith
Geary, OK
Grace Ann Vangilder
Weatherford, TX
John Brengard
Paragould, AR